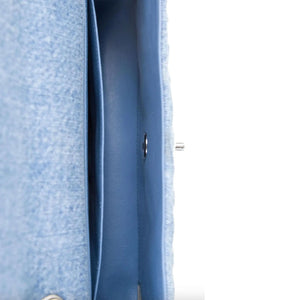 Chanel Rare Small Denim Braid Classic Flap Shoulder Bag
Introducing the Chanel Denim Shoulder Bag, a timeless piece from the Fall 2018 Collection, masterfully designed by the legendary Karl Lagerfeld. This exquisite bag showcases a rich blue denim exterior that effortlessly blends fashion-forward style with classic elegance.
The iconic Chanel Interlocking CC Logo is prominently featured on the front, complemented by a meticulously crafted quilted pattern, adding depth and texture to the design. The bag's silver-tone hardware accents exude sophistication and modernity, creating a harmonious balance with the denim's casual charm.
Leather trim delicately frames the edges of the bag, highlighting the meticulous craftsmanship that goes into every Chanel creation. The versatile chain-link shoulder strap allows for comfortable wear, whether you choose to carry it on your shoulder or crossbody.
An embroidered accent and a convenient single exterior pocket provide a touch of uniqueness and practicality to this remarkable bag. Inside, you'll find a luxuriously smooth leather lining, along with dual interior pockets, ensuring that your essentials are organized and easily accessible.
The bag is secured with a classic turn-lock closure at the front, both functional and iconic, ensuring the safety of your belongings while making a bold fashion statement.
Crafted with precision and care in Italy, the Chanel Denim Shoulder Bag epitomizes the brand's dedication to quality and style. Elevate your wardrobe with this stunning piece that effortlessly transitions from day to night, showcasing the perfect blend of Chanel's heritage and contemporary allure.