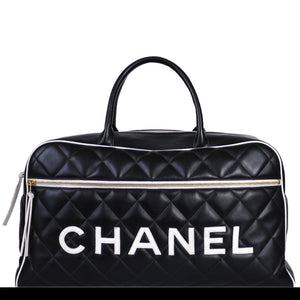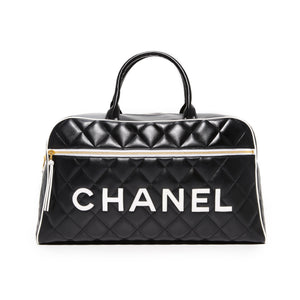 Chanel Logo Letters Vintage Quilted Duffel Bag Travel Tote
Vintage 1992 Chanel Quilted Logo Letters Duffel Bag - A Timeless Classic

This iconic Chanel duffel bag is a true gem from 1992, making it a vintage piece with 31 years of history. Crafted with meticulous attention to detail, it's a testament to Chanel's enduring elegance.

Key Features:

Crisp White Lamb "CHANEL" Lettering Stitched on Both Sides
Luxuriously Quilted Supple Black Lambskin
Convenient Two-way Zipper Top Closure
Plush Black Lambskin Lined Interior
Comfortable Rolled Calfskin Top Handles

Dimensions: 19" W x 10.5" H x 6" D

Made in France

Condition:
This vintage Chanel duffel bag is in very good condition, showing only slight signs of wear. Please note that the handles have a minor detachment issue, but this does not detract from its overall charm and functionality.

Elegance and Style:
This timeless Chanel piece has graced the arms of fashion icon Bella Hadid, making it a must-have accessory for those who appreciate both style and history.

Elevate your travel and fashion game with this oversized Chanel duffel bag—a perfect blend of sophistication and vintage allure.