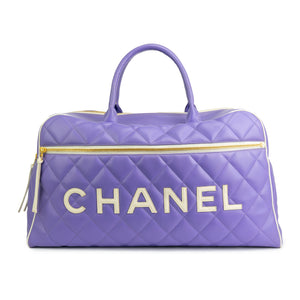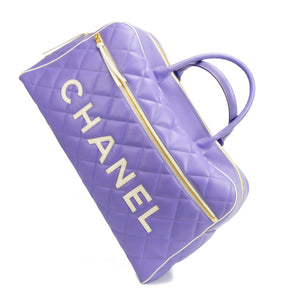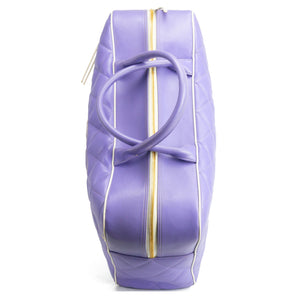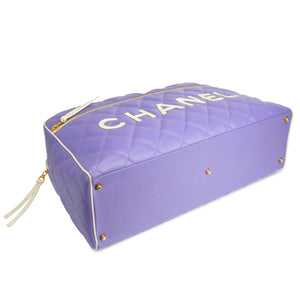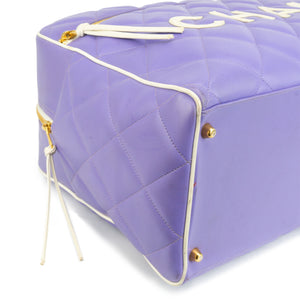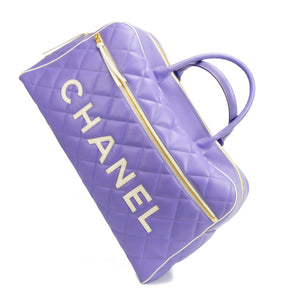 Chanel Purple Vintage Overnight Duffel Bag
Chanel Rare Purple Vintage 1990 Weekend Duffel Bag - A Unique Classic
Timeless Elegance: A vintage beauty from 1992, this Chanel duffel bag boasts 31 years of history, embodying the enduring charm of Chanel.
Iconic Branding: Adorned with the classic white lamb "CHANEL" lettering meticulously stitched on both sides, this piece is a testament to Chanel's enduring legacy.
Luxurious Material: Crafted from quilted, supple purple lambskin-like vinyl, it exudes the luxurious allure synonymous with Chanel.
Functional Design: Equipped with a convenient two-way zipper top closure, ensuring effortless access to your essentials.
Lavish Interior: The bag's interior features sumptuous black lambskin lining, harmoniously merging style with functionality.
Effortless Handling: Designed with rolled calfskin top handles, this bag offers both comfort and sophistication.
Dimensions: Measuring 19" W x 10.5" H x 6" D, it provides ample space without compromising on style.
Crafted in France: Proudly made in France, this bag exemplifies French craftsmanship, a hallmark of quality and heritage.
Condition Disclosure: Please note that vintage items are not new and may display minor imperfections. This item shows some corner wear on the piping.
Explore the allure of vintage Chanel with this exceptional purple duffel bag, a distinctive blend of style and history.